Infinite Crisis has shut down.
With its departure, Dawnbase will be going into permanent read-only mode and will remain as both an archive of information about Infinite Crisis, and a reminder of the times we all had with the game.
Hats off to you all. It was a pleasure, ladies and gentlemen.
Sacrilege
@SacrilegeGG



Released August 20th, 2013
2 alternate costumes available
Strong against:

Weak against:

We're looking for a Atomic Wonder Woman guide worthy of being our Editor's Pick.
Want to see your guide here, prominently displayed to every visitor to this page?
Go create a guide and show us what you can do!
The below feature is still being tested. Expect bugs and wacky behavior.
Vote for who Atomic Wonder Woman is strong and weak against. This will be particularly useful once draft/ranked matches are available.


You must be logged in to use this feature.

Atomic Wonder Woman's Super Speed
Atomic Wonder Woman's Super Speed allows your Champion to deal Attack Damage to enemies they move through.

Gain 20% Move Speed and move through enemies, dealing Attack Damage when you pass through them for the next 4 seconds.

Vault
(Q)
Cooldown: 18.0s
No Cost or

2 Rev
Atomic Wonder Woman leaps to the target area, dealing 50 Attack Damage to nearby enemies.

Revved: For 4s after using Vault with the Revved bonus, Vault can be used a second time, but only deals half damage.
Damage:
50
80
110
140
+
50% Bonus Attack Damage

Smite
(W)
Cooldown: 8.0s
No Cost or

2 Rev
Reset Basic Attack cooldown. Atomic Wonder Woman's next Basic Attack within 5s deals an additional 30 Attack Damage.

Revved: her next Basic Attack instead deals an additional 60 Attack Damage.
Damage:
30
55
80
105
+
45% Bonus Attack Damage
Revved Damage:
40
70
100
130
+
70% Bonus Attack Damage

Savage Sweep
(E)
Cooldown: 10.0s
No Cost or

2 Rev
Atomic Wonder Woman deals 40 Attack Damage in a cone. Enemies on the outer edge of the cone take an additional 20 Attack Damage over 2s, and lose 15% Move Speed for 2s.

Revved: Savage Sweep changes from a cone to a circle, and all targets in the circle are hit as if they were in the edge of the cone.
Damage:
40
70
100
130
+
40% Bonus Attack Damage
Damage Over Time:
20
35
50
65
+
20% Bonus Attack Damage

Reclaimer
(R)
Cooldown: 145.0s
Atomic Wonder Woman runs to the targeted Champion, becoming immune to Disables for the duration. When she reaches her target she deals 175 Attack Damage, and fills her Rev meter.

During her charge, her target is Revealed in the fog of war and in Stealth Pads.
Damage:
175
245
315
385
+
130% Bonus Attack Damage

Rev
(Passive)
Atomic Wonder Woman gains 1 Rev when she deals damage with a skill. When she has 2 Rev, her next skill has additional effects and will reduce all of her cooldowns by 0.25s, but resets her Rev to 0.

She loses a point of Rev every 6s. Dealing damage with skills or Basic Attacks resets this decay.
Cooldown Reduction:
0.25
0.50
0.75
1.00
Relentless Reclaimer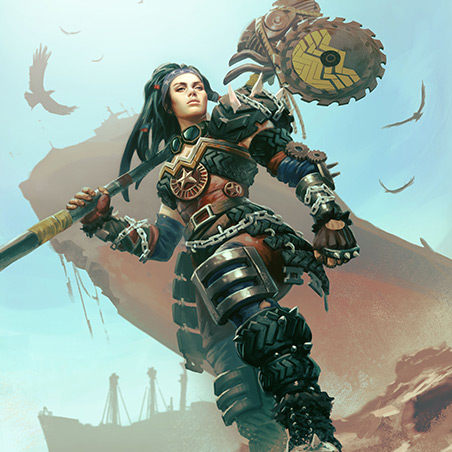 650
Infinite Metal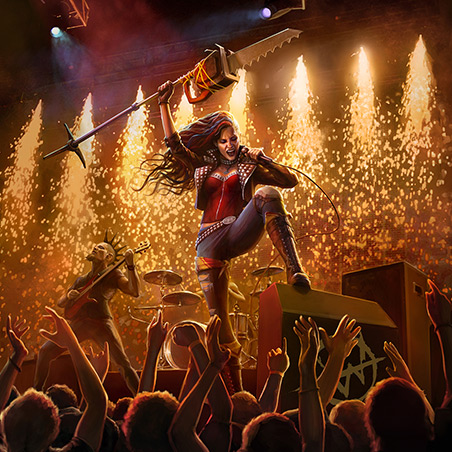 650
---
With the world's superpowers moving toward a nuclear war, Wonder Woman was sent into Man's World to try and broker a peace between the parties. Her attempts to broker such a peace were interrupted by the unfortunate impact of an object from space. Both sides mistaking the impact for a first strike, each side unleashed their entire nuclear arsenal. Not realizing she was not to blame for the nuclear war, Atomic Wonder Woman blames herself for failing to stop the war and bring peace. Now in the rubble of the world, she struggles to help the survivors build a new, and hopefully more harmonious, world.
Basic audio

---

Rejoining the fight (respawn)
---

Victory over another champion
---

---
| Champion | Cash | Points | Role | Universe | Difficulty | Guides |
| --- | --- | --- | --- | --- | --- | --- |
| Aquaman | 650 | 5700 | Bruisers | Prime | 100% | 22 guides available |
| Arcane Green Lantern | 650 | 5700 | Enforcers | Arcane | 70% | 34 guides available |
| Arcane Supergirl | 650 | 5700 | Blasters | Arcane | 50% | 9 guides available |
| Atomic Green Lantern | 575 | 5050 | Enforcers | Atomic | 70% | 21 guides available |
| Atomic Joker | 650 | 5700 | Marksmen | Atomic | 50% | 6 guides available |
| Atomic Poison Ivy | 495 | 4350 | Enforcers | Atomic | 50% | 17 guides available |
| Atomic Wonder Woman | 575 | 5050 | Assassins | Atomic | 40% | 31 guides available |
| Atrocitus | 650 | 5700 | Enforcers | Prime | 70% | 20 guides available |
| Batman | 0 | 0 | Assassins | Prime | 10% | 53 guides available |
| Blue Beetle | 650 | 5700 | Marksmen | Prime | 100% | 24 guides available |
| Catwoman | 650 | 5700 | Blasters | Prime | 70% | 35 guides available |
| Cyborg | 575 | 5050 | Marksmen | Prime | 40% | 26 guides available |
| Doomsday | 0 | 0 | Bruisers | Prime | 10% | 47 guides available |
| Flash | 650 | 5700 | Assassins | Prime | 70% | 57 guides available |
| Gaslight Batman | 0 | 0 | Marksmen | Gaslight | 70% | 43 guides available |
| Gaslight Catwoman | 375 | 2850 | Assassins | Gaslight | 40% | 33 guides available |
| Gaslight Joker | 150 | 400 | Enforcers | Gaslight | 10% | 38 guides available |
| Green Arrow | 650 | 5700 | Marksmen | Prime | 70% | 33 guides available |
| Green Lantern | 0 | 0 | Blasters | Prime | 40% | 35 guides available |
| Harley Quinn | 0 | 0 | Controllers | Prime | 10% | 29 guides available |
| Hawkgirl | 650 | 5700 | Bruisers | Prime | 40% | 7 guides available |
| Joker | 0 | 0 | Blasters | Prime | 70% | 35 guides available |
| Katana | 650 | 5700 | Bruisers | Prime | 100% | 10 guides available |
| Krypto | 650 | 6800 | Controllers | Prime | 80% | 9 guides available |
| Lex Luthor | 650 | 6800 | Blasters | Prime | 80% | 6 guides available |
| Mecha Superman | 575 | 5050 | Enforcers | Mecha | 70% | 16 guides available |
| Mecha Wonder Woman | 375 | 2850 | Marksmen | Mecha | 10% | 21 guides available |
| Nightmare Batman | 495 | 4350 | Bruisers | Nightmare | 40% | 32 guides available |
| Nightmare Robin | 650 | 5700 | Assassins | Nightmare | 70% | 19 guides available |
| Nightmare Superman | 575 | 5050 | Controllers | Nightmare | 70% | 24 guides available |
| Poison Ivy | 150 | 400 | Controllers | Prime | 70% | 39 guides available |
| Robin | 650 | 5700 | Bruisers | Prime | 70% | 15 guides available |
| Shazam | 375 | 2850 | Enforcers | Prime | 70% | 43 guides available |
| Sinestro | 650 | 5700 | Blasters | Prime | 50% | 16 guides available |
| Solomon Grundy | 650 | 6800 | Enforcers | Prime | 30% | 3 guides available |
| Star Sapphire | 495 | 4350 | Blasters | Prime | 90% | 20 guides available |
| Stargirl | 650 | 5700 | Blasters | Prime | 10% | 7 guides available |
| Starro | 650 | 5700 | Controllers | Prime | 70% | 7 guides available |
| Supergirl | 650 | 5700 | Bruisers | Prime | 60% | 11 guides available |
| Superman | 650 | 5700 | Bruisers | Prime | 60% | 33 guides available |
| Swamp Thing | 650 | 5700 | Enforcers | Prime | 70% | 5 guides available |
| Wonder Woman | 0 | 0 | Enforcers | Prime | 40% | 37 guides available |
| Zatanna | 495 | 4350 | Controllers | Prime | 70% | 22 guides available |